【News】Saitama Robocare Opens ~17th Robocare Center in Japan~
CYBERDYNE Inc. (Tsukuba, Ibaraki, Japan, President & CEO: Yoshiyuki Sankai; from now on, referred to as the "Company") in coordination with Otani Kabushiki Kaisha (Niigata, Niigata, Japan, President & CEO: Shoko Doda*1), and the Company's subsidiary Shonan Robocare Center, announced to open Saitama Robocare Center.
Like other Robocare Centers, Saitama Robocare Center became the 17th center to offer Neuro HALFIT to visitors with reduced physical function and disabilities. Neuro HALFIT aims to improve the function of the brain-nerve and musculoskeletal system of the users. With the support from the world's first Wearable Cyborg HAL, even those who experience difficulty standing, sitting, or walking can move according to their intentions with the help of HAL.
In all Robocare Centers, some private insurance contracts*2 and shareholder benefits*3 are available to reduce the financial burden. Please check the terms and conditions stated at the end of this news release to check the eligibility.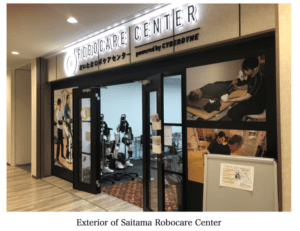 Details of Saitama Robocare Center
Date of establishment: August 5, 2022
Opening hours: (Monday to Friday)9:00 – 18:00 *Also opens on 2nd and 4th Saturdays
Holidays: 1st and 3rd Saturday, Sunday, Public Holidays and Holiday Season (Obon holiday and new year's holiday)
Address: HOME's Saitama Chuo 2F 8-3-32, Kamiochiai, Chuo-ku, Saitama city, Saitama prefecture, 338-0001, Japan  https://goo.gl/maps/Etu6b7PLxsZVidoc7
Mail:robocare@p-otani.co.jp
Web:https://robocare.jp/neuro-halfit-price/saitama/
*1 【Otani Kabushiki Kaisha】
Otani is one of Japan's most famous stores specializing in seals. With the following missions "continue to bring joy, excitement, and satisfaction to customers," "create a rewarding workplace to achieve the happiness of the employees," and "create a group that contributes to social welfare," Otani operates a home nursing and rehabilitation station "Yumemirai" mainly in Saitama City, in addition, to seal stores, to provide services that enable people with illnesses and disabilities to lead more prosperous and more secure lives in their familiar places.
*2 【Applicable insurance policies】
<Daido Life Insurance>
HALFIT Service
The policyholder Kaigo relief (whole life care insurance) Kaigo relief alpha (full life care insurance), and Shunyu relief (nursing care income insurance) will be entitled to the coverage of the entire cost of 3 Neuro HALFIT sessions at Robocare Centers. The policyholder must have a certificate between "Needed Support 1 to Needed Care 2" under the public long-term care insurance system.
(Reference) Press release (March 27, 2020)
https://www.cyberdyne.jp/wp_uploads/2020/03/20200327_PR_ENG2.pdf
<AIG General Insurance Company>
Auto Insurance (specific contracts combined with personal injury compensation)
Note: Both the recommended plan for individuals, Veriest MUSE, Veriest, MUSE, and Business Guard Auto (when personal injury insurance is included), are covered.
Occupational Accident Comprehensive Insurance (accident insurance for business and small size business owners)
Basic accident insurance (comprehensive coverage scheme for corporate management)
(Reference) Press Release (November 2, 2018)
https://www.aig.co.jp/content/dam/aig/sonpo/jp/ja/documents/company/press/2018/20181102_cyberdyne_E_final.pdf
<Sompo Japan Insurance Inc.>
Auto Insurance (personal injury insurance in combination with "the Car Insurance," "SGP," "Drivers Insurance" policy)
Expenses related to gait training treatment intervention with robot suits (reasonable costs associated with gait training treatment intervention with robot suits based on an instruction from doctors) will be covered. For more details, please refer to the following links.
"The Car Insurance" Page 88 (in Japanese only) https://cdms.jp/sjnk/stipulation/car/202004/pdf/the/the_001.pdf
"SGP" Page 90 (In Japanese only) https://cdms.jp/sjnk/stipulation/car/202004/pdf/sgp/SGP_001.pdf
"Drivers Insurance" Page 72
https://cdms.jp/sjnk/stipulation/car/2020/pdf/driver/driver_001.pdf
*3 【Shareholder benefit】
Shareholders with more than 1 unit of the Company's share as of March each year take part in Neuro HALFIT session at a discount price. For further details, please refer to the page below.
https://www.cyberdyne.jp/english/company/benefits.html